CamJam EduKit 3 – Robotics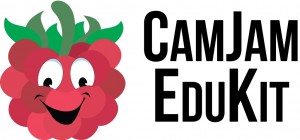 CamJam EduKit #3 is focused on robotics and contains (almost) everything you need to create your very own Raspberry Pi-powered robot.
Kit contents
The kit includes the following:
Photograph by Alex Eames, RasPi.TV

A custom-designed, pre-soldered motor controller board (with screw terminals)

Two DC motors (with wires pre-soldered)
Two custom red wheels (which go extra fast… because they're red!)
A ball castor (used as the 'third wheel' to your robot)
A small breadboard (to create your circuits)
Two pieces of strong 3M padded double-sided tape
A battery box for 4 AA batteries (batteries not included)
An ultrasonic distance sensor (for detecting objects in front of your robot)
A line follower sensor (for detecting and following black lines)
Resistors and jumper cables with which to complete your circuits
A strong cardboard box to keep it all in… or to cut into to make your chassis!
You will need to provide:
A Raspberry Pi, SD card and power supply.
A keyboard and mouse.
A chassis – anything will do – use your imagination!
4 x AA batteries to power the motors.
Buying the EduKit
The EduKit is available from The Pi Hut for £18 (plus delivery).

Worksheets
Code
The code and worksheets for CamJam EduKit 3 can be found on GitHub.
If you like to program in Java, please head over to GitHub where Enrico has written a library and documentation on how to use it.
Mailing List
Please sign up to our mailing list to get notifications of when new worksheets and new EduKits are available
3D-printable Chassis
For those of you with access to a 3D printer, there is a fantastic chassis available. Designed by Daniel Bull, it is a sturdy chassis and everything slots in nicely. You can view and download the open source files on Thingiverse.
Videos
Here's a brilliant video from Alex Eames of a completed robot made using the kit and some easily available extra components:
Here's an extensive unboxing and walk-through of the kit from The Raspberry Pi Guy (Matthew Timmons-Brown):
Here's a video of an unboxing provided by "Average Man" Richard Saville: