February 2014 – The Big Write-Up
It was another early start for us on the morning of the 8th of February. We packed the car and then headed off to the Institute of Astronomy to set-up.
First up we had a programming workshop – 32 kids on 16 Pis doing Sonic Pi. Carrie Anne Philbin led the session and was assisted by several of our regular "Jam Makers". The kids had a great time, despite some equipment problems, and stuff was learned!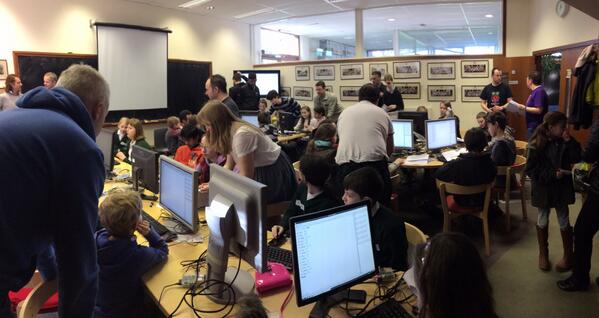 Photo courtesy @JarJarGeek (Jarle Teigland)
Some photos on this page courtesy Paul Hardy – Thanks Paul!
During the workshop, our vendors arrived for the Marketplace:
And, of course, our Show-and-Tell people also turned up! We had the following:
Our presentations started at 1pm in the Lecture Theatre.

Due to a slight transport problem, our first speaker was late so we had to rejig things slightly. So, up first was Craig Richardson (@craigargh) speaking about programming with Minecraft.

Next up, we had some lightning talks from our vendors. This wasn't the best organised set of lightning talks due to the shorter first presentation, but you live-and-learn.



Finally, Tom Hartley arrived and was up next with a presentation on the development of AirPi.

At the same time as AirPi, Hamish Cunningham ran a session in the meeting room about his portable power source for the Pi.
Then followed a short break. During the break, Jim Darby ran a well-received workshop on setting up your Pi for the first time.
After a short break, Wesley Hill (@hakobyte) gave his Internet of Things presentation. He was plagued with technical difficulties from the start but pulled it out of the bag. He showcased his Twitter monitor linked to Wii remotes and also an Internet-connected mini-printer which used the SnapChat API to print out Snapped images.

At the same time as Wesley's talk, David Whale (@whaleygeek) ran his "Networking between two Pis" workshop.
We had another break after that and then it was our turn. We were presenting on the future of the Cambridge Raspberry Jam – what our plans are for this year.

Next up was Alan Broun from Dawn Robotics. He gave a brilliant talk on the design, build and programming of robots.

Long-time CamJammer Boris Adryan presented next on programming the Pi with NodeRED.

Our last presentation, and once again beset with a few technical difficulties, was the dynamic duo of Neil Ronketti and Phil Payne who presented on a suite of network monitoring software they'd put together to measure throughput on mobile networks. This was a work-related project that they'd done in their own time and it was great to see the Pi being used for a commercial purpose for a change.

And that was it! All over! We packed everything away (for which many thanks to those who stayed til the very end and helped!) and made our way back to Potton.
A big thank you to Andy Batey, our Man at the Institute of Astronomy. Without whom it would not be possible for the Jam to run!