CamJam – 14th October 2017 – Important information
The Venue
This time, we are holding the Jam at Impington Village College. This is a brand new venue for us, so please bear with us if things aren't quite as slick as used to be!
Directions to the Jam
The address is Impington Village College, New Road, Impington, Cambridge, CB24 9LX. To find the venue, take Junction 32 on the A14 and exit the roundabout towards Histon. Follow Bridge Road (B1049) into Impington. Just past the recreation ground and football club on your right, turn right onto New Road. Go past the private hospital and the sports centre and turn into the College, which will be on your right. The car park is to the right and the main entrance door is to your left.
If you need to use public transport, we recommend the Citi8 bus from the centre of Cambridge which runs every 20 minutes and stops outside the College. Here's the timetable.
Catering & Refreshments
We were unable to secure catering for this Jam, unfortunately. However, we are providing tea, coffee and squash in the Dining Area. Pop something in the pot as a donation if you can, just to help cover the costs. Feel free to bring your own lunch or refreshments to the Jam. We're hoping to sort something out in future.
What's happening at the Jam?
For ease-of-use, here is the current programme as a PDF. Please note: Talk times and content are subject to change! Please print the programme out ahead of coming to the event – there will be some copies available on the day!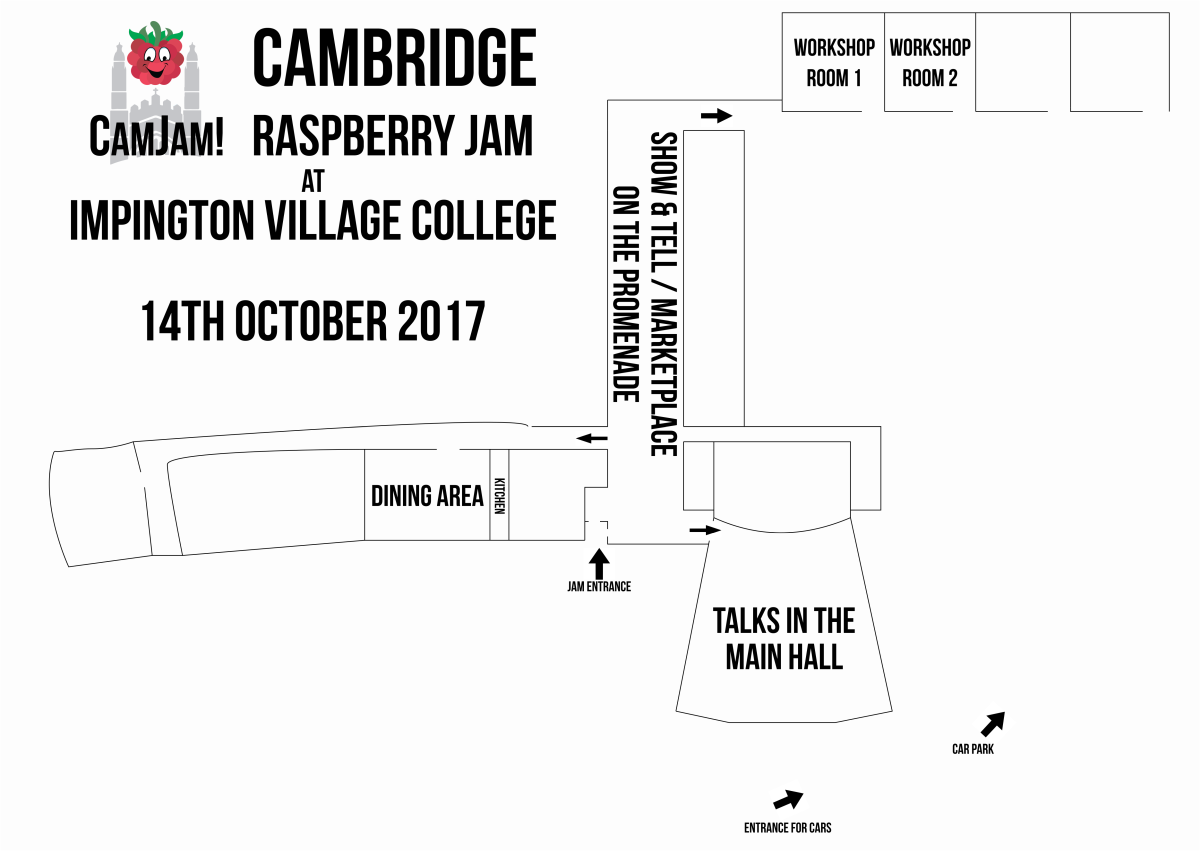 Workshops and Drop-in Sessions
Excitingly, we have two workshop rooms at our disposal this time.
The first workshop room is for the four bookable workshops. These are all sold out.
However, we often have no-shows and returns. To be in line for return tickets, please come to the workshop room 5 minutes before the start of workshops. Returns are allocated by lottery if necessary. If you're booked on one of these workshops, please ensure that you arrive on time for the session. If you haven't arrived 5 minutes after the start, we may give your seat to anyone waiting for returns.
The second workshop room will play host to a Beginners Q&A from 10.45-11.45am. This is a much-requested session, so come along if you're new to all this armed with any questions you might have. After the Q&A, the second room is available for Drop-In worksheet sessions.
Talks
These will take place in the main hall. The schedule is currently as follows (subject to changes):
10.40 – Mike Horne/Tim Richardson – Welcome to CamJam
10.45 – Brian Corteil – How to Build a Robot for Pi Wars – Hints and tips from 3 years of Pi Wars robot building.
11.15 – Tom Oinn – Using your game controller from Python. Particularly suited to robot kits like the CamJam Edukit 3, the approxeng.input library makes it easy to access the joysticks and buttons on your game controller from Python code on your Raspberry Pi. I wrote the library for my PiWars robots, and will walk through the code you'll need to get going with your own projects.
11.45 – Ben Nuttall – piwheels – Building a faster Python repository for Raspberry Pi users (making "pip install numpy" fast!)
12.15 – Sway Grantham – Raspberry Pi as a Tool for Teaching. The Raspberry Pi is ideal for students to learn about how computers work, and that's even before you turn it on!
12.45 – Premalatha Balan – Importance of parental involvement in kids coding
1.15 – Matthew Timmons-Brown – Raspberry Pi Bike Dashcam
1.45 – Samuel Martin – Raspberry Pi Slam Bot. A talk about autonomy, 3D scanning and robots with frickin' laser beams!
2.15 – Jonathan Pallant – Measurements crate in Rust. Computing with physical quantities (Force, Pressure, etc).
Talks will (hopefully) be video-recorded and put on YouTube after the event.
Show and Tell
Plenty of Pi-related projects to take a look at along the Promenade.
Marketplace
There will be a small Marketplace featuring Pi Supply, RasPiO, Pi Borg and Pimoroni. (Short notice means some of our regular people couldn't make it!)
When should I arrive?
Set-up and Clear-down
The set-up team will be arriving from 9am for a Jam start at 10.30am. As this is a new venue, we expect this to be just enough time. If you're intending to arrive early to help, please head to the main entrance when you get here. Watch out for flying tables.
We will need some help to clear-down at the end of the Jam, which should be at 4pm. If you're able to help at all, even if it's just to take down tables or signs, the more help we get the quicker it will be.
Jam Makers (Marshals and Workshop helpers)
You should hopefully have received an email from Mike with your schedule. Let us know if you can't make it, are going to be late or haven't received the email.
Speakers
The talks will take place in the main hall. Your slots are 25 minutes long. You will be given a yellow card 5 minutes before you're due to finish and a red card 2 minutes before 🙂 See above for the talk timetable. We hope we've got everyone in a slot they're happy with.
Show and Tell / Marketplace
If you are exhibiting in Show and Tell or the Marketplace, feel free to arrive from 9.30am (unless you're helping set-up). There's a (small) area near the front door for drop-offs, but please move your vehicle to the car park afterwards. We _may_ still be setting up when you arrive, so please bear with us!
Attendees
If you're coming just to enjoy the Jam, the doors open at 10.30am. Please show your ticket to the people on the front desk. If you're booked on a workshop, see the notes above. We like to leave the Show and Tell list a mystery until the day, but suffice to say there's plenty of projects to take a look at – be sure to ask lots of questions! Please see the note above about Catering and refreshments.
Peace and Quiet
The quietest area is probably the Dining Area, so head there for a cuppa if it all gets a bit much.
Getting help
Watch out for our Jam Makers who will be wearing badges. Ask them any questions you may have. Mike and Tim will be the ones wearing purple polo shirts. Likewise, feel free to ask them any questions too!
Any questions right now?
Email mike@recantha.co.uk if you have any questions about the Jam.